In-article ad is one of AdSense Native ad formats that provides better user experience, optimized for mobile, and increase viewability. AdSense Native In-article is specifically designed for placing between the paragraphs of pages.
In this article, we will show you how to place AdSense In-article ad code to your WordPress blog using Ad Inserter plugin.
AdSense Native In-article ads Best Practices
The following YouTube Video is the AdSense online seminar for AdSense Native ads.
According to Google's In-article Best Practice, In-article works best if it was placed 2 paragraphs below the start of your article content.
We will follow Google's recommendation to place In-article before the 1st H2 or H3 Heading tag, as the first Heading is usually located after a couple of paragraphs.
How to place In-article ad before 1st Heading tag in WordPress posts
Create and copy In-article ad code
1. Log in your AdSense account.
2. Click [My ads], and then click [New ad unit] button in "Content-Ad units" page.
3. 3 or 4 ad types (Text & Display ads, (Matched Content),  In-feed ads, In-article ads) will be displayed. Select "In-article ads"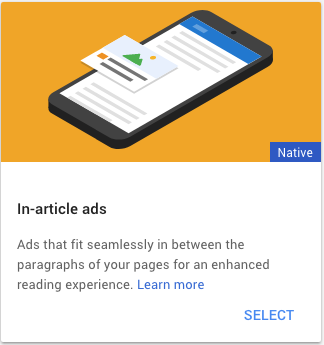 4. Enter Ad unit name. Customize optional settings if you like. See the code implementation guide for more details.
5. Press [SAVE AND GET CODE] button.
6. Ad code will be displayed. Click "COPY CODE SNIPPET".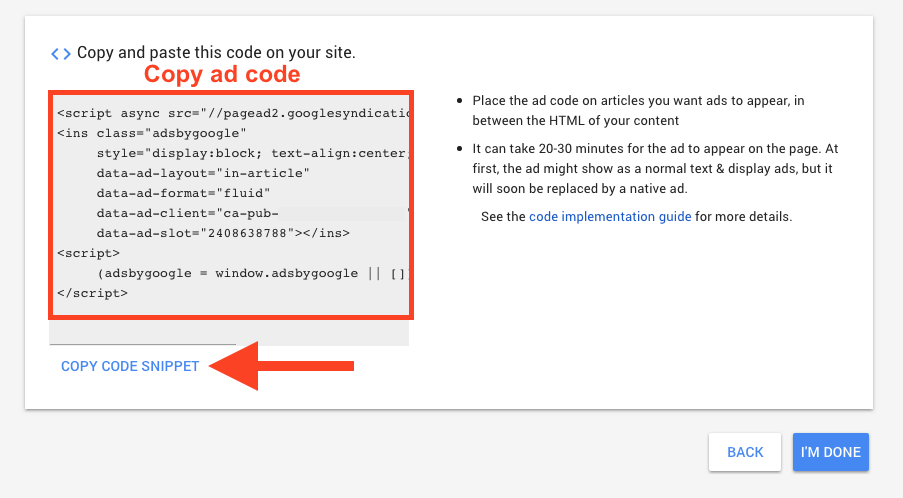 Setting up In-article ad placement using Ad Inserter
From WordPress Dashboard, click [Settings] and then click [Ad Inserter].
Choose available Ad Block number.
Paste In-article ad code in Ad Inserter ad code block box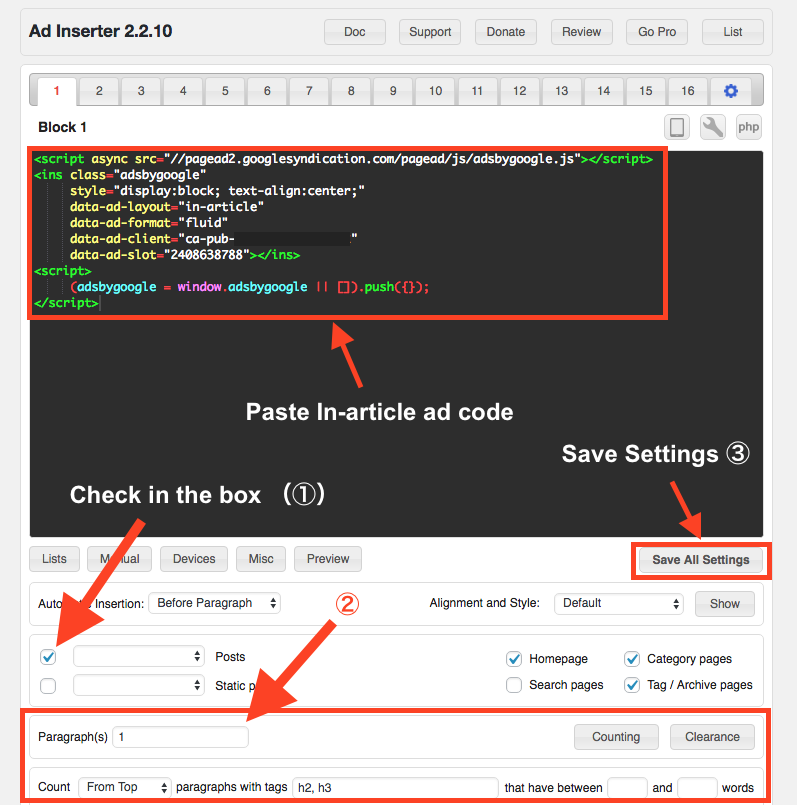 Make sure the Posts box is checked. (①)
To place ad code before the 1st Heading tag (h2 or h3), enter "1" in the box after "Paragraph(s)", and "h2, h3" in the box located after "paragraphs with tags". (②)
If you would like to insert ad code between 2nd and 3rd paragraph, enter "3" in the box after "Paragraph(s)", and leave empty for the box located after "paragraphs with tags".
Press [Save All Settings]. (③)
Visit your post page to check Ad is displayed as expected.
Sponsored Links